Siapakah Edgecore Networks?
Edgecore Networks adalah perusahaan penyedia solusi wired dan wireless profesional end to end dengan solusi lengkap yang menghasilkan nilai bagi pelanggan dan membantu merealisasikan potensi masyarakat jaringan digital, Edgecore Networks menawarkan beragam produk yang luas, mencakup 100G / 40G / 10G / GE switching, enterprises grade wireless, dan perangkat manajemen jaringan.
Edgecore menyediakan produk-produk unggulan industri untuk memenuhi kebutuhan jaringan pelanggan mereka di segmen pasar yang berbeda dari infrastruktur jaringan, switch untuk data center, core switch, serta wireless access point untuk indoor dan outdoor.
Bagian dari Accton Group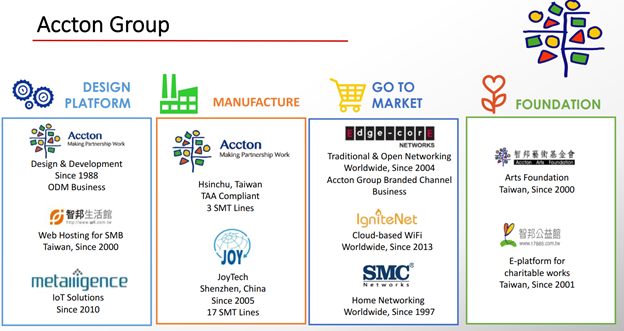 Pilar Utama Edgecore Networks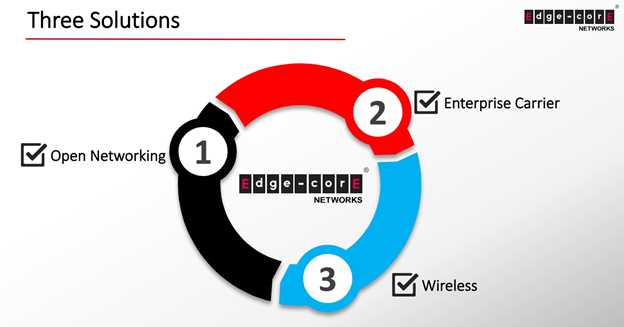 Pilar Pertama, Open Networking
Sebagai penyedia device powerfull yang mendukung Open Networking, Edgecore bekerja sama dengan komunitas open networking sebagai penyedia software yang mendukung performa terbaik di bidang datacenter maupun enterprises, diantaranya :
ONF Open Networking Foundation
OCP Open Compute Project
Telecom Infra Project
Keuntungan dari Open Networking
Adapun dibawah ini adalah beberapa keuntungan yang dimiliki Open Networking :
Disagregasi memberikan KEBEBASAN pilihan dan menghapus vendor lock-in
KONTROL yang lebih besar melalui Infrastruktur Jaringan melalui open platform perangkat lunak
INOVASI yang cepat melalui komunitas & pendekatan developer
Mengurangi CAPEX dan OPEX
Pilar Kedua dan Ketiga, Enterprises Carrier and Wireless                             
Selain memiliki varian switch yang dapat di implementasikan software open networking, Edgecore juga memiliki lini produk yang menggunakan OS Edgecore sendiri. Lini produk dari Enterprises Carrier dan wireless ini mencangkup switch dengan jumlah 8 port hingga 48 port, POE maupun non POE, uplink downlink fiber atau non fiber, switch tipe indoor maupun industrial. Begitupun dengan wirelessnya, access point Edgecore memiliki beragam spesifikasi, mulai dari high density AP dan juga indoor maupun outdoor AP.
Keuntungan dari Edgecore's Enterprises Carrier and Wireless   
Tidak memiliki lisensi tambahan untuk ap
Tidak memiliki lisensi tambahan untuk controller
Tidak memiliki yearly license
Memiliki fitur yang lengkap, dibawah ini beberapa fitur yang tidak dimiliki produk lain pada produk jenis wireless controller:

Remote, Site-to-Site VPN
Tunneling Protocols: IPSec, IKEv2
Rogue AP Detection
AP load Balancing
DHCP Server and Relay
Network Address Translation
Built-in HTTP Proxy Server
Dibawah ini adalah rangkaian produk Enterprises Carrier and Wireless Edgecore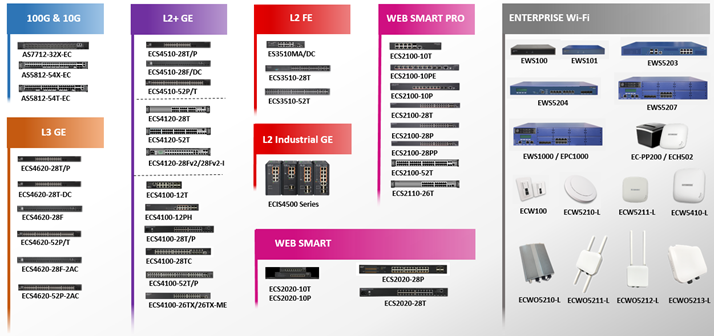 For more information :
Mohammad Faqih Abilowo
Technical Advisor
E-mail : Mohammad.Abilowo@metrodata.co.id