Kita semua tahu tentang kebebasan dari remote workplace. Bekerja dari jarak jauh memberikan otonomi yang lebih besar tentang di mana dan bagaimana Anda bekerja, keseimbangan kerja / life balance, dan fleksibilitas yang lebih besar. Pengunaan headset yang tepat dapat mengoptimalkan pengalaman kerja jarak jauh Anda lebih jauh.
Manfaatnya dilihat dari kejernihan panggilan yang ditingkatkan, passive and active noise cancellation (ANC), wireless headset, kenyamanan pengguna, dan desain. Namun, jangkauan headset yang tersedia sangat besar, jadi mana yang tepat untuk Anda? Kami akan membantu Anda menemukan jawaban atas pertanyaan ini dan memperkenalkan Anda pada lini headset premium ADAPT dari EPOS|Sennheiser yang cocok untuk semua jenis profesional jarak jauh.
Step 1: What kind of professional are you?
Ini adalah pertanyaan penting untuk dipertimbangkan. Apakah Anda menghabiskan banyak waktu untuk panggilan telepon atau online meeting? di mana kejelasan dan kenyamanan panggilan merupakan masalah utama? Apakah Anda bekerja sendiri atau berkolaborasi dengan orang lain menggunakan platform online seperti Microsoft Teams, Zoom, atau Google Hangout? Atau mungkin Anda menghabiskan lebih banyak waktu untuk tugas-tugas yang membutuhkan konsentrasi? Atau mungkin Anda terus-menerus bertemu mitra saat ini dan calon mitra di mana tampilan profesional dan modern penting untuk memberikan kesan yang tepat. Semua faktor ini ikut berperan saat mempertimbangkan model dan desain headset yang Anda pilih.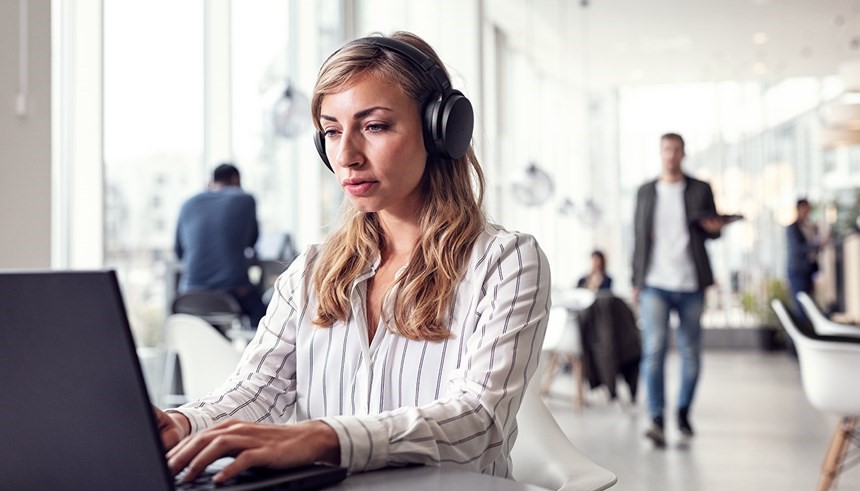 Step 2: What sound environment do you work in?
Yang tidak kalah penting adalah tempat Anda bekerja. Apakah Anda menghabiskan banyak waktu di jalan mengunjungi klien dan mitra yang berbeda? Apakah kamu bekerja dari rumah? Atau lebih tepatnya di warung internet atau ruang kerja bersama? Sebagai profesional jarak jauh yang serba guna, Anda mungkin bekerja di semua lingkungan ini pada satu waktu atau lainnya, jadi penting untuk memilih headset yang dapat beradaptasi dengan semua situasi kerja yang berbeda ini dan tetap menawarkan kualitas audio terbaik di kelasnya.
Step 3: Comfort is king
Jika Anda ingin bekerja dengan kemampuan terbaik Anda, hal yang tidak ingin Anda hadapi adalah headset yang tidak nyaman. Terlalu ketat dan Anda akan kesakitan, terlalu longgar dan itu akan jatuh. Ini adalah investasi untuk membantu Anda mencapai potensi profesional, jadi perlu diingat bahwa membelanjakan lebih banyak untuk kualitas yang lebih, akan terbayar dalam jangka panjang. Lantas, apa sih yang membuat headset nyaman?
Jika Anda akan menelepon sepanjang hari, headset yang ringan adalah suatu keharusan. Anda akan merasa tidak nyaman jika headset yang Anda gunakan terasa berat dan bahkan memengaruhi postur Anda.
Plastik dan logam berkualitas tinggi digunakan untuk membuat lebih banyak headset premium yang tahan lebih lama. Kulit imitasi empuk (Cushioned leatherette) yang digunakan untuk bantalan telinga juga meningkatkan kenyamanan pengguna.
Dapat disesuaikan (Adjustable)
Kita semua berbeda dan itu juga berlaku untuk bentuk dan ukuran kepala kita! Bagian Headband yang dapat disesuaikan menciptakan ukuran khusus yang dapat disesuaikan akan meningkatkan kenyamanan headset saat Anda bekerja.
Step 4: Design that works your way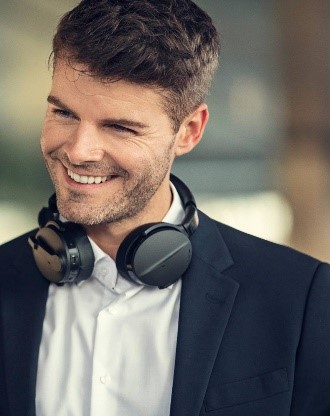 Baik fungsionalitas dan estetika desain headset Anda merupakan faktor penting untuk dipertimbangkan. Headset masa kini wired ataupun wireless hadir dalam berbagai gaya pemakaian. Di masa lalu, headset berkabel menawarkan kualitas audio yang lebih andal karena menerima frekuensi audio dan mengirimkan sinyal mikrofon langsung melalui kabel. Sebelumnya, headset nirkabel (wireless) rentan terhadap gangguan, tetapi kualitas premium saat ini, headset wireless Bluetooth®  menawarkan keandalan yang sama dalam kualitas audio dan mikrofon seperti yang dapat dilakukan oleh banyak headset berkabel. Jadi, pilihannya kemudian tergantung pada preferensi pribadi, biaya dan gaya pemakaian. Berbagai gaya pemakaian headset juga sangat penting. Ini bisa tergantung pada cara Anda bekerja dan preferensi pribadi.
| | |
| --- | --- |
| | |
SMI selaku Distributor EPOS Sennheiser Headset juga menyediakan berbagai solusi. Tidak terbatas di Unified Communication, SMI juga menyediakan Speaker Phone untuk meeting room, Headset untuk Call Center, dan Headphone untuk Office Solution.
Untuk info lebih lanjut atau berbicara langsung dengan tim EPOS Sennheiser kami, silahkan hubungi :
Email : ContactUs@metrodata.co.id / sennheisersmi@metrodata.co.id
Telepon : 021 – 29345800 / 081222409840 (Olivia)