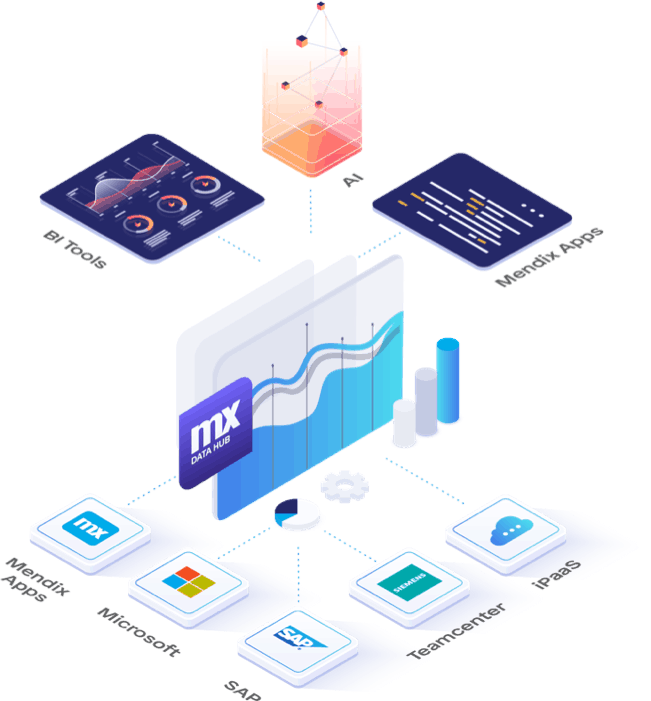 Jakarta, 18 Maret 2022 — PT Synnex Metrodata Indonesia ("SMI")—salah satu entitas anak PT Metrodata Electronics Tbk (IDX: MTDL) yang fokus dibidang Distribusi Teknologi, Informasi dan Komunikasi (TIK) Digital, pada hari ini mengumumkan kemitraan strategik terbaru bersama Mendix — pemimpin perusahaan global produk Siemens dan enterprise low-code, sebagai Tier 1 Solution Partner untuk memasarkan Lisensi Mendix yang akan menyasar seluruh lini industri—khususnya Finance Banking Services Industry (FBSI), Manufacturing & Distribution, Government & Education, Retail serta Oil & Gas. Hal ini untuk memperluas jumlah pelanggan di Indonesia dan mempercepat perusahaan mengadopsi solusi Mendix. Serta memperkenalkan solusi Mendix pada ekosistem lokal reseler SMI.
Mendix adalah platform all-in-one low-code dan menurut Gartner® & Forrester® Mendix merupakan pemimpin pasar di low-code domain. Mendix memiliki platform yang dapat ditawarkan bagi para pengembang dan profesional warga pengembang dengan manfaat yang unik yaitu: Extensions with code & build-in code editors; Reusability of any components across apps; Project-level collaboration and communication; Integrated version control and synchronization; Consistency checks & AI-assisted development Starter Apps; dan Shared model for Studio & Studio Pro.
Teknologi yang digunakan oleh Mendix adalah piranti lunak low-code yang merupakan inti dari platform Mendix. Menurut Mendix, low-code adalah pendekatan visual pengembangan piranti lunak yang dapat mengoptimalkan proses seluruh penggunaan dalam mempercepat proses pengiriman. Dengan low-code, kita dapat memisahkan dan mengotomasi tiap langkah dari siklus aplikasi agar dapat merampingkan penempatan dari solusi yang beragam. Dengan memecah silo bisnis tradisional dan TI, organisasi dapat mengembangkan solusi yang dapat memenuhi kebutuhan bisnis.
"Dengan berkembangnya dunia digital, seluruh perusahaan berlomba dalam mengembangkan aplikasi yang dapat mendukung bisnis. Sebagai Value Added Distributor terbesar di Indonesia, SMI konsisten dan terus menerus memberikan layanan dan penawaran terbaik bagi mitra bisnisnya, salah satunya dengan menghadirkan solusi Mendix, pemimpin dalam pengembangan platform di dunia yang memiliki kemampuan dari No-Code hingga Extend-Code. Kami bangga atas penunjukkan Mendix sebagai Tier 1 Solution Partner untuk memasarkan Lisensi Mendix yang akan memudahkan mitra bisnis dalam menawarkan solusi Mendix yang mendukung low-code ke pelanggan, serta memudahkan pelanggan dalam merealisasikan ide bisnis ke dalam transformasi digital. Kami percaya dengan solusi yang kami tawarkan dapat memberikan manfaat lebih dalam pemilihan solusi bagi channel partner yang ada dalam ekosistem kami", kata Lie Heng, Direktur PT Synnex Metrodata Indonesia.
Vincent Lim, Vice President and Head of Asia Pacific Siemens-Mendix mengatakan bahwa "Indonesia merupakan pangsa pasar penting bagi Mendix. Sebagai perusahaan Indonesia memulai perjalanan transformasi digital mereka, platform Mendix all-in-one low code memberdayakan mereka dan membantu dalam mengakselerasi pengembangan aplikasi digital mereka melalui penggunaan cloud-native kami, mobile-native technologies serta membuat cloud menjadi lebih efisien. Bersama SMI, kami memiliki mitra bisnis yang sangat baik, dan saya percaya akan memberikan manfaat bagi pelanggan dan memperluas jangakauan bisnis kami di Indonesia. Saya sangat bersemangat sekali dapat bekerjasama dengan SMI dan percaya bahwa dari kemitraan ini akan menghasilkan keberhasilan yang besar."
SMI dikenal sebagai distributor TIK inovatif yang memiliki infrastruktur bisnis yang dapat diandalkan. Bersama Mendix, SMI akan mempersiapkan tim Presales, Post Sales dan tim Product yang akan dilatih dan disertifikasi. Mendix memiliki pengalaman dalam dunia platform yang sudah teruji lebih dari 250.000 komunitas pengembang serta lebih dari 2.000 pelanggan yang sudah menggunakan platform Mendix dalam mendukung bisnis mereka. SMI menjalankan strategi Go to Market Framework sejalan dengan pengembangan pengenalan pasar serta pendayagunaan peluang Channel Sales yang menjangkau lebih dari 150 kota di 21 wilayah strategis di Indonesia melalui dukungan lebih dari 5.200 channel partners serta memastikan dapat memberikan ragam layanan produk dan solusi dengan kualitas kelas dunia.
Tentang PT Synnex Metrodata Indonesia
PT Synnex Metrodata Indonesia ("SMI") adalah perusahaan patungan (joint venture agreement) antara PT Metrodata Electronics, Tbk (IDX: MTDL) dan Synnex Technology International Corp yang dibentuk pada awal tahun 2011. SMI fokus di bidang distribusi TIK dengan 2 (dua) lini bisnis yaitu Solusi dan Distribusi, dan bermitra dengan perusahaan TI kelas dunia. SMI memiliki tujuh sentra distribusi antara lain di Jakarta, Bandung, Surabaya, Semarang, Yogyakarta, Medan, dan Makassar serta didukung kantor logistic center and sales force yang tersebar di seluruh kota-kota besar di Indonesia. Dengan layanan yang efisien dan efektif, serta didukung oleh dealer dan reseller, SMI siap melayani berbagai kebutuhan para pelanggannya. Informasi lengkap mengenai SMI, kunjungi www.synnexmetrodata.com.
Tentang Mendix
Mendix adalah perusahaan produk Siemens dan pemimpin global enterprise low-code, yang secara mendasar menciptakan kembali aplikasi yang dibangun perusahaan. Dengan platform Mendix, perusahaan dapat 'Membuat lebih Banyak', dengan cara memperluas dari kemampuan pengembangan perusahaan untuk menguasai piranti lunak yang mengalami hambatan; 'Menjadi Lebih Pintar', dengan cara membuat aplikasi berdasarkan pengalaman yang kental dengan pengalaman yang cerdas; dan 'Membuatnya Berskala', memodernisasi sistem utama dan membangun portofolio aplikasi yang luas agar tidak tertinggal oleh pertumbuhan usaha. Platform Mendix dibangun untuk mempromosikan kerjasama yang intens antara bisnis dan tim TI dan siklus aplikasi yang pesat mempercepat pembangunan, sementara mempertahankan standar tertinggi dari keamanan, kualitas, dan tata kelola—singkatnya, membantu perusahaan lebih percaya diri dalam memasuki digital masa depan. Platform Mendix 'Melangkah Mewujudkannya' telah diadopsi di lebih dari 4.000 perusahaan terkemuka di seluruh dunia.
Untuk keterangan lebih lanjut, silahkan hubungi: