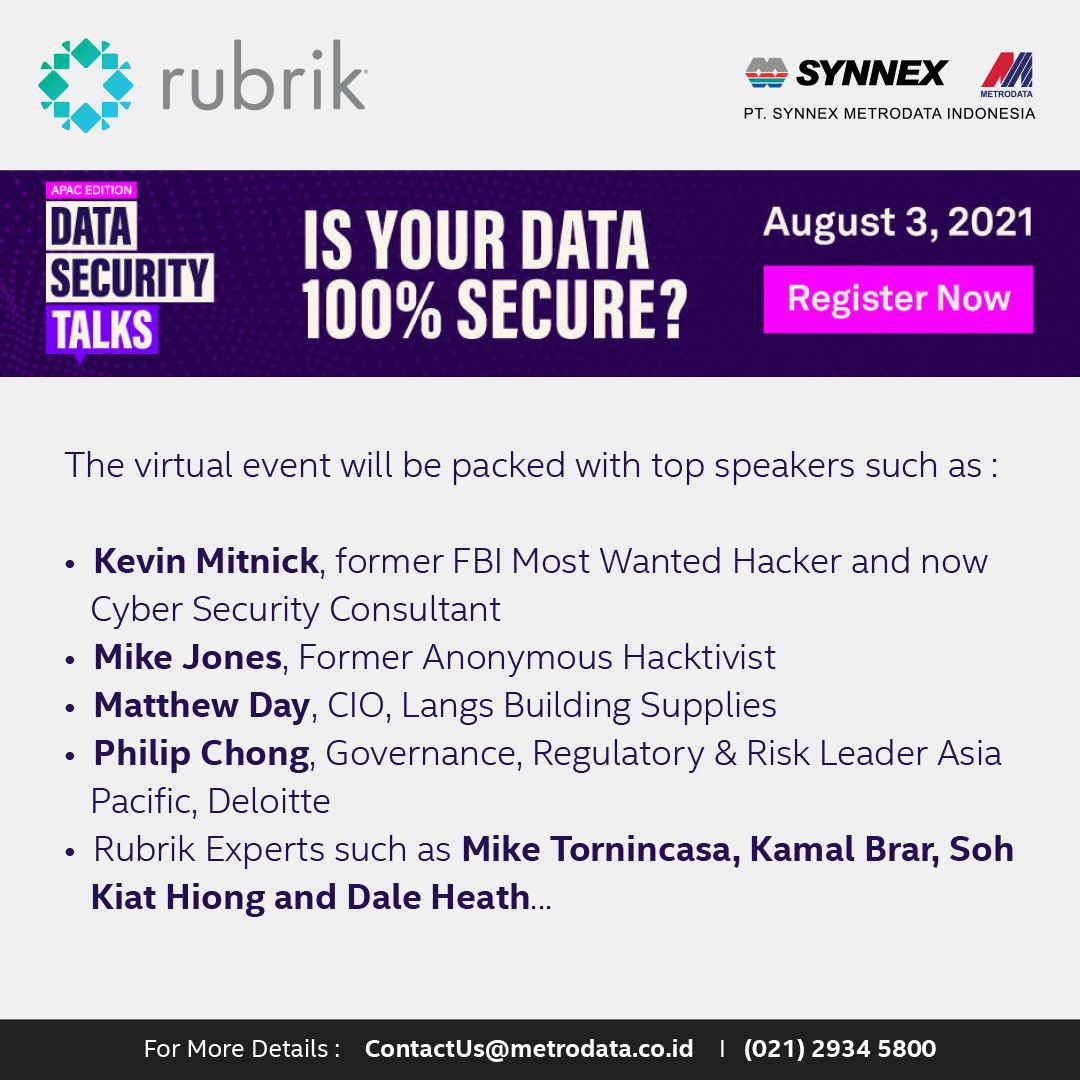 We see it every day in the headlines. Despite putting rigorous defensive security measures in place, ransomware is still getting in and corrupting data, forcing organisations to pay massive ransom fees. Is your data safe?
That's why I think you will be interested in joining us on August 3 at the Data Security Talks | Rubrik. We have gathered hackers, security leaders and Rubrik customers for a half-day session to discuss new cyber/ransomware threats, hacking tools, techniques and how even seemingly secure organisations can be laid bare.
Get inside the mind of hackers like Kevin Mitnick, FBI's Most Wanted Hacker, and former member of hacktivist group Anonymous, Mike Jones. See at first hand new cyber/ransomware threats, their hacking tools and techniques. Hear from Security & Risk Experts, Deloitte and Palo Alto Networks key recommendations on how to strengthen your security posture. And, learn how companies such as Langs Building Supplies are mitigating data risk.
The virtual event will be packed with top speakers such as :
• Kevin Mitnick, former FBI Most Wanted Hacker and now Cyber Security Consultant
• Mike Jones, Former Anonymous Hacktivist
• Matthew Day, CIO, Langs Building Supplies
• Philip Chong, Governance, Regulatory & Risk Leader Asia Pacific, Deloitte
• Rubrik Experts such as Mike Tornincasa, Kamal Brar, Soh Kiat Hiong and Dale Heath…
Join us on 🗓️ Tuesday, 3rd of August, ⏰ 10:00 a.m. at the Data Security Talks | Rubrik.
Register Now :
https://bit.ly/3l8Xo40
#rubrik #security #ransomware #DataSecurityTalks #synnexmetrodataindonesia #synnexmetrodata #smi