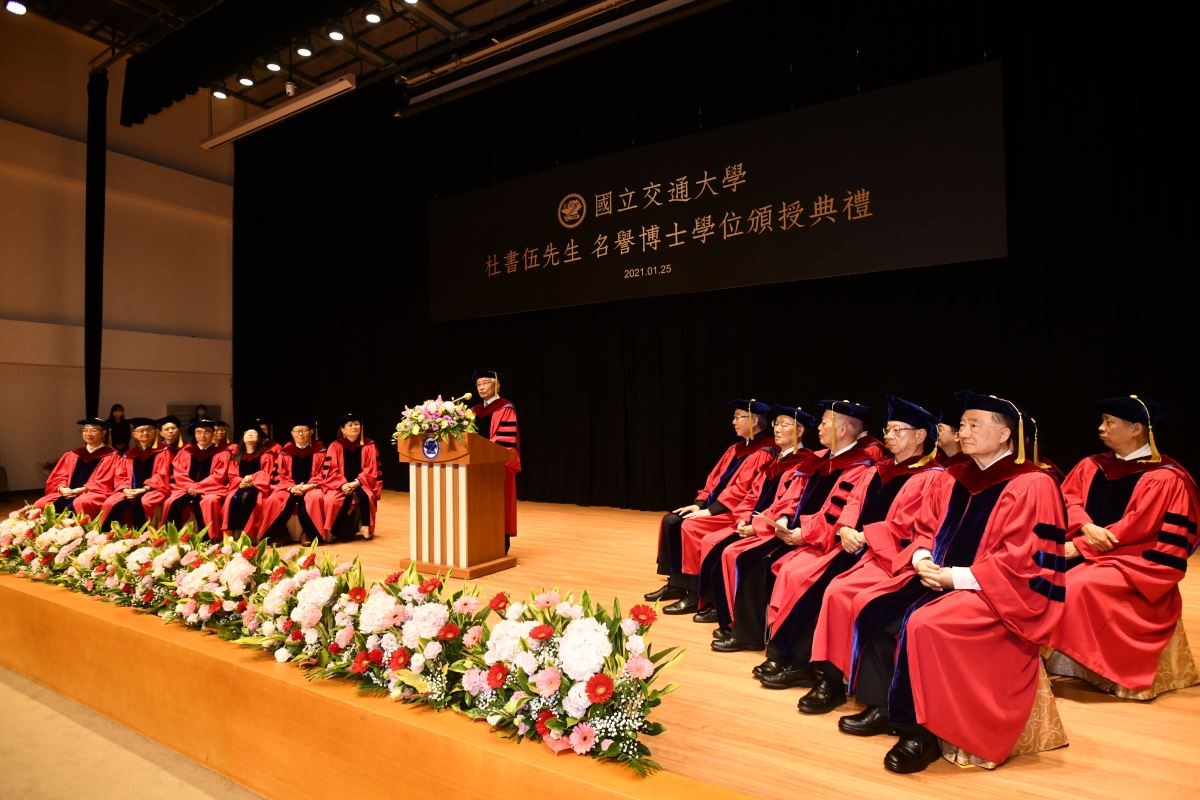 On January 25, National Chiao Tung University (NCTU) conferred an honorary doctoral degree to Evans S.W. Tu, President and CEO of SYNNEX Group, in recognition of his major contributions with regard to business management and society.
Evans S.W. Tu is a pioneer in Taiwan's information industry, and his contributions to such have earned him a place among the "Top 10 Key Figures in the History of the Information Industry in Taiwan". Under his leadership, SYNNEX Technology International Corporation(2347.TW) has been named one of the "Best Taiwan Global Brands" for 18 consecutive years, as well as featured among the "Most Admired Companies in Taiwan" for 12 consecutive years. In addition, Evans S.W. Tu has been included as one of the "Taiwan Top 10 Best-Performing CEOs" on three consecutive occasions by the Harvard Business Review. His achievements in the industry have also been acknowledged by his alma mater: He has been named an "outstanding alumnus" of NCTU as well as one of the "50 most influential alumni in five decades since the foundation of NCTU in Taiwan". In 2020, the Industrial Technology Research Institute (ITRI) bestowed upon him the title of ITRI Laureate.
In his speech during the honorary doctorate conferment ceremony, Sin-Horng Chen—Acting President of NCTU—stated that Evans S.W. Tu graduated from NCTU's Department of Computing and Control Engineering in 1974. He started working for MiTAC in 1976 and promoted applications of microprocessors, thereby setting an important foundation for Taiwan's IT industry. In 1979, he founded Microcomputer Age—the first periodical to promote microprocessors in Taiwan, which served to inspire many business ideas in the field of IT. In 1988, he founded SYNNEX based on the groundbreaking concept of a professional distributor. Under the 3-in-1 operating model of sales, distribution, and maintenance, the company was the first to offer integrated services in the high-tech supply chain. This also enabled SYNNEX to become listed on the stock exchange in 1995, a first for a distributor in Taiwan. SYNNEX is now the second largest high-tech distributor in the world, with branches in 38 countries and regions, and revenues of USD$43.7 Billion.
Sin-Horng Chen also noted Evans S.W. Tu's tireless efforts to generalize knowledge on management. He has authored various written works and columns—including The Secret of My Career, The Secret of My Career 2, On Certain Ideas, Unstoppable Stagecoach, and 3% Transcendence—based on his four-decade-long business management career. He unreservedly shares his insights in order to push forth the progress of businesses and society. His contributions to the information industry, business management, and society make him the epitome of entrepreneurship, a model for teachers and students in NCTU to follow. It is thus that Sin-Horng Chen conferred the honorary doctoral degree to Evans S.W. Tu on behalf of NCTU, in recognition of his major contributions with regard to business management and social welfare.
In the honorary doctorate conferment ceremony, Evans S.W. Tu expressed his gratitude, saying that he enrolled in NCTU in 1970. There, he received a solid educational foundation and first became acquainted with the information and electronics industries. It has been an honor to act as advocate in the very beginning and then serve as a key actor for over 40 years afterward. The road has run through both bliss and hardship, but seeing that today, Taiwan's ICT industry holds a privileged position in the global market, the heart is filled with pride; this has also facilitated such magnificent career. In this long journey, he is especially grateful for the kind support and assistance by Matthew F.C. Miau and the concerted effort by all employees and partners to stride forth. All this would have been impossible without them. Evans S.W. Tu is thankful for the recognition by his alma mater. The degree conferred is an important milestone in his life.