It is a wide-spread misconception that small and medium enterprises should not focus on enhancing cybersecurity. Operating business and providing services to customers means being on the hackers' radar. Attackers take advantage of SMB's cyber vulnerabilities and get what they want with minimum efforts. Industrial espionage, data theft for its subsequent selling, blackmail can be a sad story of small and medium enterprises, too. So how do you make a cybersecurity tragedy into a successful narrative? The answer is simple – PAM specifically configured for SMB needs and specifics. The latest reports by independent analytic experts like Gartner and KuppingerCole also underline the necessity to implement privileged access management policy for small and medium enterprises.
To deploy a privileged access management solution is the first important step towards high-level cybersecurity. If an intruder gets access to privileged credentials, he gets access to any type of data. Internal work structure, financial reports, customer base, legal documents – one attack can make promising and developing businesses fight for survival. Though small, medium and large enterprises face the same PAM challenges, the solution to these challenges should be different and take into account the company's scale. That's where Indeed Privileged Access Manager comes into play.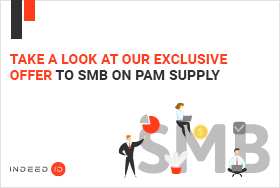 Being easily adjusted to specific SMB infrastructure, Indeed PAM can
Determine the parameters of privileged access. You can granularly grant access to any privileged account: a critical business user, a system administrator, a third-party contractor.
Provide Just-In-Time (JIT) privileged access.  You can choose the required levels of access to the resources for the required amount of time.
Discover unregistered privileged accounts and take them subsequently under control.
Implement two-factor authentication (2FA) before granting privileged rights.
Make video and text records of privileged sessions.
To support SMB in their decision to implement PAM, Indeed Identity has developed a special business offer. Indeed PAM can be bought in the following packages:
---
PACKAGE 1
User licenses – 5
Resource licenses – 20
Package price – 1 600 EUR/ per 1 year of subscription.
PACKAGE 2
User licenses – 7
Resource licenses – 30
Package price – 2 100 EUR/ per 1 year of subscription.
PACKAGE 3
User licenses – 10
Resource licenses – 40
Package price – 2 650 EUR/ per 1 year of subscription.
---
User license gives the right to use Indeed PAM for a stated number of users. Each employee who gets access to the resources with the help of privileged credentials must have PAM user licence.
Resource licence gives the right to connect to a stated number of resources  – servers, hosts etc. The number of resource licences must be equal or more than the number of servers, PC and other equipment which privileged access is granted to.
Let us know if you want to learn more about the offer and take a look at the product demonstration.
For more info :